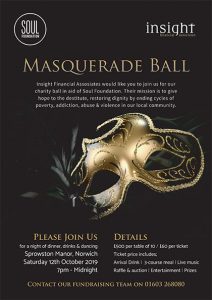 Earlier this year on May 10th, twelve colleagues from Insight Financial Associates slept rough for one night to raise funds for Soul Foundation a local charity that supports vulnerable people within the local community, ranging from feeding the homeless to offering support and mentorship to those released from prison.
"We can't do everything, but we must do something and your partnership with Soul Foundation is going to help us achieve more – together we are stronger!!"
Mel Goldsmith, Soul Foundation
The aim of the sleepout was to spend the night experiencing the conditions that those in this position may face, whether it rains or stays dry. Homelessness is an issue that is currently on the rise in Norfolk and the group hopes to raise awareness for those affected by it.
"I'm excited to see how we as a company in 2019 can support this local charity and be an active part of helping the homeless and vulnerable in our city."
Jason Howard, MD Insight Financial Associates
The team have already raised just over £2,200 this year, through fundraisers like the sleepout, and they also held a car wash at their office located next to Norwich airport.
Now they have turned their attention to the big event, a masquerade ball at Sprowston Manor on October 12th that is to include a 3-course meal, live music, raffle and auction.
For more information and to book a table, or sponsor the event, please call 01603 268080 or email insightcharity@insightifa.com.
Donations can be made online @ https://www.gofundme.com/insight-financial-associates